Qualified Fuse Box Electrician and Technician in Kuala Lumpur & Klang Valley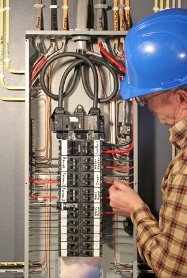 We offer a complete service in electrical fuse box upgrade that includes fuse box replacement by qualified electricians at cost-effective rate nationwide. Our complete electrical fuse box upgrade services will upgrade your fuse box capacity to meet the requirement of additional lights and sockets in your home or office. Apart from that, our cost-effective fuse box replacement service will help you replace the old fuse box with modern, higher efficiency, and safer electrical fuse box for the security and safety of your office or household. Our qualified fuse box electrician will replace new replacement fuse box equipped with miniature circuit breakers and residual current devices to protect indoor and outdoor sockets, and detect any dangerous changes in the electrical current.
Full-Service of Electrical Fuse Box Service for Home and Office in Malaysia
Get our office electrical contractor in Selangor now for complete electrical fuse box upgrade services, cost-effective fuse box replacement service, and qualified fuse box electrician available in KL, Klang Valley and Selangor.
Please give our Plaster Ceiling Specialist Contractor in Kuala Lumpur KL & Klang Valley, Selangor, Malaysia a
Call
now or
E-mail
us any enquiries regarding our quality
Plaster Ceiling Design
&
Installation Services
for your home residential buildings, commercial or industrial buildings in Malaysia.